Note to readers: Zoom Out: The Future of Work is a series that chronicles macro changes, trends and real-life experiences that affect the workforce as we tread uncertain times. It is aimed to dig deeper and build a point-of-view around popular and contrarian topics around work.
Social distancing may be the new normal but technology has brought people together. The coronavirus outbreak has forced a large number of people to work from home and video-conferencing has become an integral part of our day, be it work or play.
The video-conferencing platform Zoom in May said it had 300 million meeting participants each day, up from 10 million users in December. Its valuation surged to $42 billion, more than that of the world's seven biggest airlines.
Conferencing is having its moment and the use of collaborative and virtual meeting applications and tools is set to become far more advanced. In the future, rather than spending hours travelling for meetings and working back-to-back schedules to get together, businesses will be able to connect more effectively. Virtual Reality (VR) will offer the ability to talk as though you are in the same room. Wearable technology will allow biometrics to give a more rounded and "human" element to communication.
Imagine this.
The year is 2022. You have an important client meeting. You are all dressed up and have to reach the client's office at 9 am sharp. At about 8.53 am, you turn on your computer screen and with the click of a few buttons you are at your client's office by 8.55 am.
You shake hands and stand two feet apart. The client's office is in a garage and you are both not on mute. You answer your client's questions based on the presentation and notes you had exchanged on Loom (3.0). You whiteboard the entire meeting on Miro (3.0) and make to-dos on Roam Research (3.0) and the meeting is done in 40 minutes.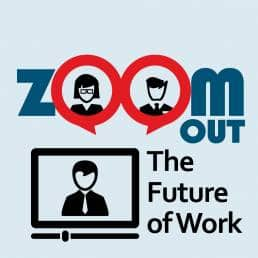 By 9.41 am, you are back at your desk at home. You are satisfied as the meeting was quite "engaging and interactive" and brew your coffee —your house-robot has not perfected that yet.
What about physical meetings?
According to Desmond Dickerson from the Centre for the Future of Work, Cognizant, one of the few benefits of the pandemic has been a rethink on meetings. As many meetings move online, now is a good time to step back and think about what other aspects of meetings should be changed. Frequency? Duration? Attendees? Like most other facets of life, the more intentional we are about meetings, the better they will be. Unless people begin to reflect more about their meetings, they will continue to face the same problems.
Physical meetings are not going anywhere but technology is here to stay.
I spoke to Praval Singh, Vice President, Zoho Corporation, who has worked remotely for eight years and here is what he thinks about the future of meetings, "Technological dependence will not go away. The meeting-experience on technology platforms will continue to evolve and improve. Right from Zoho Meetings to Microsoft (Teams) to Google (Meet) or Cisco (Webex) and multiple startups (Zoom, BlueJeans, Skype, GoToMeeting) are all working on improving meeting simulation. Going forward, we are going to be mindful of privacy and security around meetings."
Reimagining physical meeting spaces
Sidharth Menda, Founder and Vice Chairman at CoWrks, has interesting insights to share about how his company has had to adapt physical spaces for the future.
During the pandemic
Earlier, co-working spaces or offices had limited meeting or conference rooms, with fewer technology interfaces. Now, they are moving towards more meeting rooms and technology interfaces in every room.
From a design perspective, video cameras in meeting rooms have to be smartly placed, so that those being connected virtually have a better interaction facing everyone in the room. Investment is also being made in acoustics for a better meeting experience.
Circular seating arrangements are not popular anymore. V-shaped configurations are being worked for virtual meetings to create the best collaborative experiences.
Changes that will stay
Better hygiene and sanitisation will be the norm.
Touchless technology is another by-product of the pandemic that will remain in vogue. Take for instance apps that run elevators (Menda said that RMZ, the parent company of CoWrks, has built its own proprietary elevator app for all its campuses) and washrooms and coffee machines will also become touchless, or as touchless as possible.
Distributed offices will come up vis-a-vis a single headquarter in the same city.
During the pandemic, companies are believed to have given up 78 football fields, or more than six million sq ft, in office space, a media report said. These companies include Accenture, Swiggy, GE and MuSigma.
The last word—privacy and security
Shriram Subramanian, Founder and MD of InGovern Research Services, a governance advisory firm, says, "I would divide virtual meetings into four quadrants: Meeting Importance (highly important, routine) and Information Shared (confidential, non-confidential). For routine and non-confidential meetings, one has to adopt their discretion. However, for highly important and confidential meetings (example: board meetings), the Ministry for Corporate Affairs mandates that attendees state in advance that no other person is present in the room and their video camera has to be on throughout the meeting."
Subramanian also believes that the world will slowly move back to physical meetings, albeit, with the pandemic having taught us that taking a flight for meetings with inconsequential agendas will no longer be the norm.
(Nisha Ramchandani is Manager Outreach, Axilor Ventures and a writer focussed on Future of Work) Read the original article