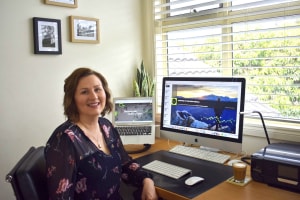 AdNews brings the stories of those working from home (WFH) in the advertising and media industry during the coronavirus crisis.
Monica Greenwood is general manager at strategic market research agency Bastion Insights.
How are you dealing with the silence?
What silence? With the initial lockdown, did come a sense of workplace isolation and "silence" but that quickly shifted for me as I made a point of scheduling as many 'face-to-face' calls as I could. Using the wide variety of video conferencing tools available (Google Meet, ZOOM, Microsoft Teams, Skype, What's App…..), I am very regularly on some sort of phone call or video meeting, so there is never really that much silence TBH.
Add to that a daughter in Year 12 who has been undertaking online learning from home over this COVID period. It actually became quite challenging at times when we were both trying to be on video calls at the same time and negotiating who had priority to work in which rooms of the house. I became the typical embarrassing Mum who accidentally walked past in shot while she was online with her teacher and multiple classmates in an online class ("Muuuummmm….!!"). No silence here!
Also, my dog snores (just saying…..).
What's the upside?
My coffee machine!
Sorry to say that while the coffee machine at the office is reasonably good, I am loving my home coffee machine (a Jura model in case you are interested). I am really going to miss these coffees when we do head back into the office…!
On a more serious note, I think a big upside is that it has really shown how effective we can be with a working-from-home model. There's always been a sense that WFH is "allowed" and "OK". But I think COVID has given us an opportunity to build it in to the fabric of our everyday working life which will become a fundamental part of how we work in the future.
WFH does have a benefit for me when I am working on something that requires undivided attention for a few hours such as writing a report or a proposal or conducting in-depth interviews. It's easier to dedicate that time to the task in an uninterrupted way, so I am far more efficient and effective for those sorts of tasks when I am at home. And if we can build time in our regular working week in the future to being at home for that, then I think it will be a win-win situation.
The downside?
I am by nature a 'people person' and the part of my day I always enjoyed the most was meeting with people, having a coffee and sharing our stories (both professionally and personally). I always feel really good after a meeting with someone in person and I think it is largely about 'the vibe of the thing' – that connection that is unspoken, unwritten or communicated through body language. That vibe is harder to achieve in a virtual world. And it's probably the part of this pandemic that I miss the most.
When the first lot of restrictions were slightly eased and you could have a limited number of people in your home. I invited a good friend around for a glass of wine (or two) and was giddier than going on a first date! Even though I had been having regular ZOOM calls with this friend, I was so excited about getting to meet up with her face-to-face. We had the best afternoon, socially distancing while sipping our wine and chatting about nothing in particular. Sadly, I need to wait a little longer for real life social interaction again.
How are you using the commuting time saved?
I have taken up yoga again after a five year hiatus. My first couple of sessions were a little embarrassing, but my body is starting to remember some of the moves. There are now a host of online classes available at 6:30 in the morning, which I would not be able to do if I had the commute to work to factor in.
I also have time to drive with my daughter to school each morning (now that they are allowed back on campus), which I also wouldn't typically do. But it gives me some comfort to know she doesn't have to risk public transport at the moment while we are still fighting this thing. And she gets to build her learner hours up!
I am looking forward to being back in the office because…
I miss 'the vibe of the thing!' There is a certain buzz and energy when you are in the office that is just not there when working from home and that is what I am looking forward to the most. It's that sense of team spirit and feeling like you are all working together towards one goal. Along with that are the organic 'incidental' conversations that sometimes give you food for thought and stimulate your thinking that are a little lost in the virtual world.
And the deli next door on Cremorne Street does a wicked panini…… I'm looking forward to those again.
Have something to say on this? Share your views in the comments section below. Or if you have a news story or tip-off, drop us a line at adnews@yaffa.com.au
Sign up to the AdNews newsletter, like us on Facebook or follow us on Twitter for breaking stories and campaigns throughout the day.