Microsoft (MSFT) is a truly interesting company. It has transformed from a founder-led company into one being led by a truly wide range of world-class managers. The company has also seen all kinds of phases: from humble beginnings, to being accused of monopolistic practices, to being seen as an old stalwart and lately emerging as a hot, fast-growing tech name again.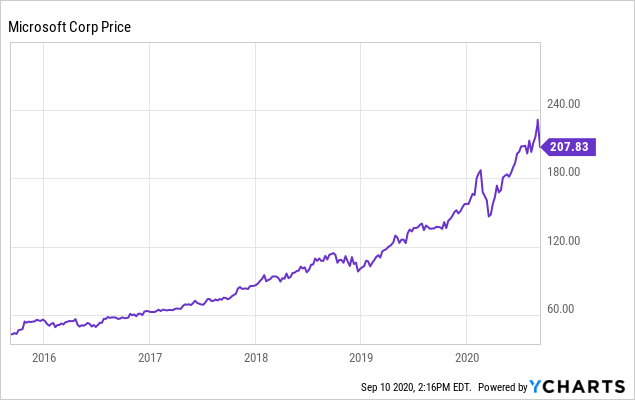 Did I say growing tech name? The stock price has certainly been growing at a healthy clip over the last five years. The stock was down at $43.50 five years ago and is presently at $208. That's a multiple of 4.8x, or 36.7% a year! On top of this the company pays a nice and growing dividend. But that's just icing on the cake when you're talking share price appreciation like this.
Historical Dividend Growth
Microsoft paid its first quarterly dividend in 2003. I remember at the time that people were very negative about this whole thing. A tech company paying dividends was no longer a growing, hot tech name. Still, I do not think investors who bought the stock back in 2003 regret it today!
The company only started raising the dividend a few years later, in 2006. Since then, though, it's been no way but up. Ten years ago, the dividend stood at $0.13 per share per quarter. Now it stands at $0.51 for a multiple of 3.9x, or an annual average growth rate of 14.6%. I'd sure like to tell my boss that I expect my income to increase by 14.6% a year. Good luck with that! Over the last five years, the dividend has grown by an average annual rate of 10.5%. Still nothing to complain about, although we have to note the growth rate is a bit slower than it used to be.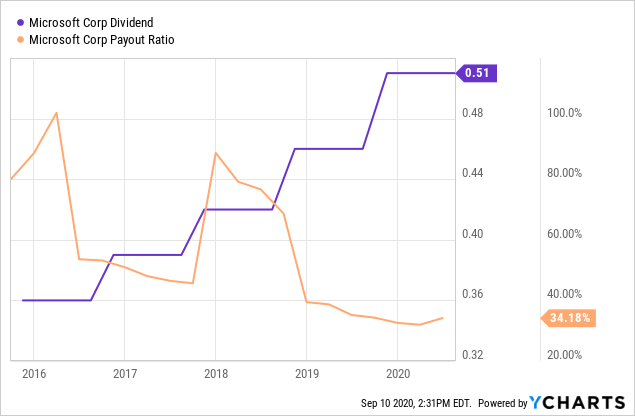 On the chart above, we see that the dividend is growing predictably every year. Somewhat less predictable is the payout ratio, which has oscillated between 100% and 30%. I'm not too worried about that, though, as there are always some one-time losses or gains that influence this ratio. For a time now, the ratio has been solidly below 40% and currently at 34%. This is very, very conservative when we keep in mind how solid the revenue of this company is. It's not for nothing that Microsoft is only one of two companies that keeps a AAA credit rating.
And, oh, another reason is probably that it also has $136 billion in cash, cash equivalents and short-term investments. It paid out just over $15 billion in dividends over the last twelve months, which means the company sits on enough cash to pay out dividends for nine – 9 – years even with a net income of zero dollars. The safety of this dividend is unquestioned.
September Dividend Hike
We know for a fact that the dividend is secure and there is no chance it will be cut this or the next decade. The only question is how much it can be increased. Obviously, compared to many other dividend growth stocks, this dividend could easily be doubled overnight and still be more secure than most of the other companies' dividends. But we all know that is not going to happen with a Board as conservative as Microsoft's.
The best guide, therefore, is probably to look at the trajectory of Microsoft's operations. The company is performing well. Revenue was up 14%, operating income was up a full 23% and earnings per share was up 9%. All business areas are growing robustly. I think it's safe to say that it's very hard to spot anything to be gloomy about in this report.
Some segments were growing at truly wild rates. Take the 894% growth rate of Microsoft Teams, crushing even the growth rate of Zoom (ZM), which grew at 677% over the same period, from February to June. And with the probability of a continuing or even growing home office trend, Microsoft Teams will probably continue to grow at a robust pace for many years to come.
I'm sure the Board would want to err on the conservative side this year, as we are, after all, in the middle of a pandemic. Even though Microsoft is firing on all cylinders and in many ways profiting from the home office trend, it wouldn't be the right signal to send that it is gushing its shareholders full of cash. On the other hand, it would send a strong signal to its shareholders that they can depend on Microsoft increasing the dividend at a rate investors have become accustomed to.
When we look at the dividend increases over the last two years, we can see that it has been quite close to the 10% mark. This ties well into the diluted earnings per share growth rate of 9%. A 10% increase would thus be right on the trend line and would not alter the payout ratio from last year. My prediction is, therefore, for a 10% dividend increase to $0.56 per share.
Risk Factors
Even though this company currently seems next to invincible, there are certainly risks out there to consider. For one, the government might want to regulate tech companies more, and this is even encouraged by Microsoft itself to some extent. Further, the ongoing trade war between the U.S. and China entails a risk that U.S. companies will be kicked out of China. This will certainly hurt Microsoft as well as Apple (AAPL). On the bright side, government meddling might also create opportunities, such as, for instance, giving Microsoft the opportunity to buy the U.S. part of TikTok (BDNCE). Competition is an ever-present risk, especially for technology companies, as they are at the forefront of disruptive technologies. Although the established players are very aware of not falling behind, one day some new competitor will come along with a great product, chipping away at your customer base.
Current Valuation
Microsoft is most certainly a great company. The question is whether it is a great company poised to deliver great returns or whether it is already priced for perfection. In answering that question, I will look at some key metrics and compare it with those of two competitors. As peers, I've chosen Apple and Alphabet (GOOG, GOOGL).
| | | | |
| --- | --- | --- | --- |
| | Microsoft | Apple | Alphabet |
| Price/Sales | 11.4x | 7.6x | 6.5x |
| Price/Earnings | 32.4x | 29.3x | 28.0x |
| Yield | 1.0% | 0.7% | N/A |
Source: Morningstar
Well, they're not cheap. Within the price/sales category, Alphabet wins with a multiple of 6.5x. Microsoft is clearly the most expensive on this metric. As for price/earnings, Alphabet again is the cheapest one, if you can call a multiple of 28.0x that. The range is fairly tight, though, with the most expensive, Microsoft, only slightly above at 32.4x. When it comes to the dividend yield, Microsoft is the cheapest with a yield of 1.0%.
Unfortunately, the world isn't simple. Had Microsoft changed hands for a 2.5-3.0% yield, an investment into the name would have been a no-brainer. At 1.0%, it is admittedly harder. If you are retired and need the income, 1% won't get you far. On the other hand, if you are a dividend growth investor – with an emphasis on growth – I would definitely seriously consider the name.
Analysts on Wall Street expect Microsoft to turn out an average annual EPS growth of 14.0% over the next five years. If we assume no change to the multiple, a fair assumption given the solid market position, margins and growth rate of this company, and adding in the dividend, investors can expect total returns of 15% going forward. Prospective returns like that are rare. Even rarer if you're seeking that kind of return from a rock-solid AAA rated company. For dividend growth investors, Microsoft is a good pick, even at a 1% current yield.
Conclusion
Microsoft has been growing dividends since 2006. The company has been on a tear over the last couple of years, and the pandemic has only solidified its position further. This, combined with an enormous cash position, makes for a solid foundation for dividend growth for years to come. Investors can expect this tech giant to award them with a 10% dividend hike later this month. And they can expect the dividend to keep on growing at a very healthy pace for many, many years to come. Microsoft, even at a 1% current yield, should prove to be a very solid investment for dividend growth investors over the coming years.
Disclosure: I/we have no positions in any stocks mentioned, and no plans to initiate any positions within the next 72 hours. I wrote this article myself, and it expresses my own opinions. I am not receiving compensation for it (other than from Seeking Alpha). I have no business relationship with any company whose stock is mentioned in this article.