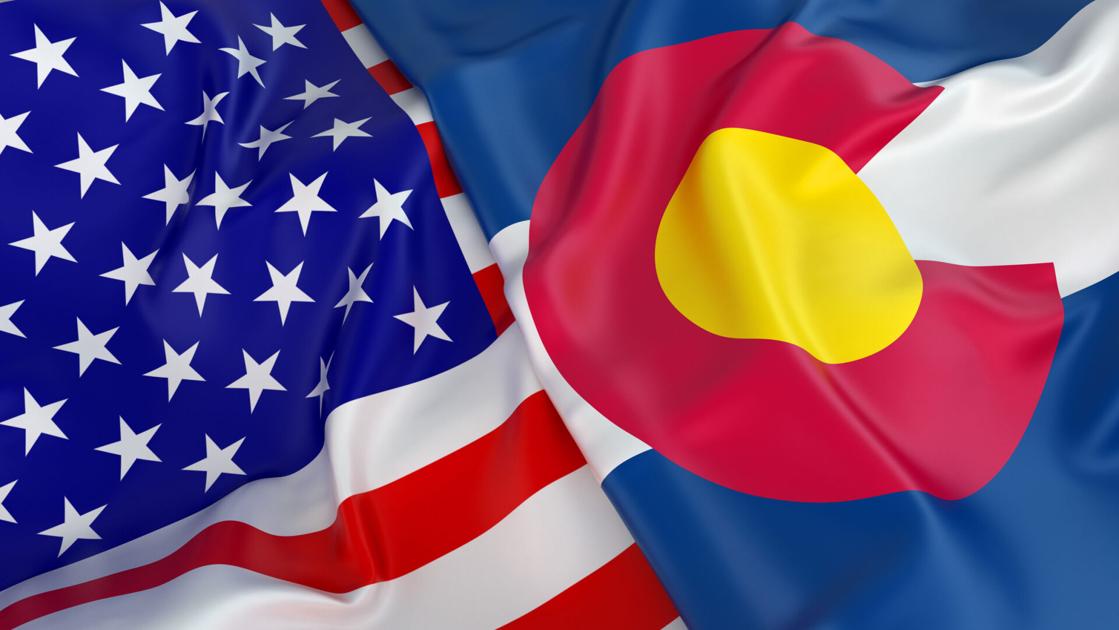 As the 2020 campaigns enters their final stretch, Coloradans are poised to pick a senator, who could determine which party controls the upper chamber amid a historic pandemic and the resulting economic downturn.
Throw in rising tensions over racial justice and police brutality, laid bare since the May 25 death of George Floyd in Minneapolis sparked nationwide protests, and it's an election like no other.
There's no question the main event for Colorado voters is the contest between U.S. Sen. Cory Gardner, the Yuma Republican seeking a second term, and former Gov. John Hickenlooper, who jumped after a lackluster White House bid to take on the GOP incumbent in a race pegged as the Democrats' best chance for a pick-up in the country this year.
The state's increasingly Democratic-leaning electorate will also determine whether Colorado's nine electoral votes go to the Democratic nominee, former Vice President Joe Biden, for the fourth presidential election running, or if the state Republican Party's early investment in organizing in the state can swing voters toward President Donald Trump, bucking polls and prognosticators.
In a shift from previous election cycles this decade, the state's marquee congressional race this year has moved from the suburban, Aurora-based 6th Congressional District to the sprawling 3rd Congressional District, covering most of the Western Slope and parts of southern Colorado.
That's Republican Lauren Boebert, a Rifle restaurant owner and first-time candidate surprised five-term U.S. Rep. Scott Tipton in the June 30 primary, creating an open seat and an opening Democrats hope to seize upon in the Republican-leaning district.
Democrat Diane Mitsch Bush, a former state representative and Routt County commissioner, had been counting on a rematch with Tipton — she lost a bid to unseat him two years ago — but is instead looking at healthier odds of winning the seat for the Democrats, who haven't held it for a decade.
The race in the 6th CD features former Republican state party chairman Steve House mounting a challenge against U.S. Rep. Jason Crow, the Democrat who handed Republican U.S. Rep. Mike Coffman his first defeat in three decades last time around.
Crow, who served as one of the House Democrats' impeachment managers earlier this year in proceedings that resulted in the GOP-controlled Senate acquitting Trump, holds a big fundraising advantage over House, and neither party appears to be pouring the kind of resources into the race that it regularly received in previous cycles this decade.
Ensuring turnout
Ballots go out Oct. 9, and then it's a scramble for both parties to navigate COVID-19 restrictions to encourage voters to return them amid attempts by Trump and his allies to cast doubt on mail voting, the method used by 96% of Coloradans.
Colorado isn't being treated like the pivotal, battleground state it was in the previous three presidential election, when the state was flooded with tens of millions of dollars in advertising spending and the top-ticket candidates barnstormed the state on what seemed to be a weekly basis.
The state's second-tier status was underlined at the two major parties' national conventions in the waning weeks of August, when not a single Colorado politician held the spotlight at the Democratic National Convention or the Republican National Convention, which were both held virtually to avoid the spread of the new coronavirus. It marked a sharp change from recent years, when Coloradans had been featured speakers at both confabs — including Hickenlooper, who took the podium at each of the last three DNCs.
"I absolutely believe it's in play," Marc Lotter, director of strategic communications for the national Trump campaign, told Colorado Politics on Aug. 28 during a Denver stop on the Team Trump bus tour.
"If you look at the last three presidential cycles, the Democrats' stronghold on Colorado has been declining," he said, noting that President Barack Obama won the state in 2008 by a larger margin than Democrat Hillary Clinton did in 2016. "This is the year the president can actually close that gap completely."
Republican strategists say they're banking on turning out Trump voters who sat out the 2018 election, when Democrats ran the field in Colorado, scoring historic wins up and down the ballot. Those voters haven't been registering yet in polling, however, as nearly every publicly available General Election survey has shown Biden with a healthy double-digit lead over Trump among state voters.
Lotter said the GOP's unprecedented ground game — in place since last summer and already logging millions more voter contacts than the Trump campaign posted in 2016 — will make the difference.
"We love to talk about the ads and all those kind of things," he said, "but the Colorado Republican Party has never had the support in manpower and money as early as they had — we've had people on the ground for more than a year. And I think Joe Biden is just now starting to get people in place. We're not only doing the work on the ground. There's a lot to be said for the president and the vice president actually getting out and campaigning."
He predicted that Trump and Vice President Mike Pence will likely campaign in Colorado before Election Day.
"You will probably see the president and the vice president as we get closer and continue to look at things, it's something we plan to do," Lotter said. "It shows a commitment we've got, that we're going to fight for it."
Center stage: Gardner and Hick
But in Colorado, at least, the race between Hickenlooper and Gardner has held center stage, even though both the pandemic has mostly prevented both campaigns from holding large-scale events.
Instead, they've been meeting voters on Zoom teleconferences and in visits with smaller groups around the state, garnering coverage in local media outlets while TV ads and text messages sent by campaign workers convey their messages to the rest of the state's 3.5 million active registered voters.
Gardner's fate in Colorado could be inextricably tied to Trump's — a relationship Democrats are more than happy to emphasize at every turn, made easier after the president embraced Gardner at a Colorado Springs rally in February, saying the Republican has been with the administration "100%."
"What I continue to fight for is how do we ensure that Colorado has more opportunities tomorrow and we fight against what I think is an existential threat to our country right now and that's the leftward lurch, the socialism, now being embraced by Joe Biden and Kamala Harris," Gardner told Colorado Politics in a recent interview.
Like other Republicans this cycle, Gardner has been banging the "socialism" drum incessantly, though the notoriously moderate Hickenlooper — who drew boos from fellow Democrats last year when he denounced his party's drift to the left on the presidential campaign trail — might not be giving him the foil he anticipated.
Along with a steady stream of press releases from his Senate office touting federal spending and grants in Colorado, Gardner has been trumpeting landmark legislation he steered to the president's desk earlier this summer, when Trump created a permanent funding source for the Land and Water Conservation Fund by signing the Great American Outdoors Act. It was Trump, however, who essentially emptied out the fund in 2017 as a budget-cutting measure.
While they've praised the legislation, environmental and conservation groups aren't cutting Gardner any slack otherwise, pointing out that he's supported the Trump administration's environmental policy at nearly every other turn.
Gardner, who serves on the Senate Foreign Relations Committee, has also highlighted his international achievements — including helping procure some needed equipment from Asian nations during the early days of the pandemic — and boasts about bringing the Bureau of Land Management headquarters to Grand Junction.
"Colorado has always been the gateway to public lands, but now with the headquarters of our public lands management agency, we are truly the headquarters of our public lands," he told Colorado Politics.
Critics counter that the move was almost wholly symbolic, amounting to only a few dozen employees, and was part of the Trump administration's efforts to hollow out federal agencies by forcing longtime employees to retire when faced with the prospect of uprooting their families from Washington, D.C.
Other recent Gardner wins include the temporary home of the new Space Command landing in Colorado Springs, work toward building a pipeline to ship natural gas from Colorado to Asian markets, and federal money for the National Renewable Energy Laboratory in Golden and the Arkansas Valley Conduit, a water pipeline from Pueblo to Lamar, which only recently funded after first being approved in 1963.
"My platform is Colorado," he said. "I fight and vote for Colorado each and every day, and that's what it's always going to be, regardless of what the RNC or the DNC says."
He predicted Hickenlooper was "hiding in his basement right now hoping no one asks him about socialism and Kamala Harris."
Harris, one of Hickenlooper's former opponents in the Democratic presidential primary, "is one of the kindest, most fearless people I know," the former governor tweeted when Biden announced his pick. "She's going to be a fantastic Vice President."
Hickenlooper emerges
Emerging in recent weeks from the virtual campaigning he's mostly conducted since the state shut down this spring, Hickenlooper made a swing during the final week of August across the Western Slope, with stops in Steamboat Springs, Grand Junction, Delta and Gunnison.
He's making a pitch similar to the one he offered on the presidential campaign trail, talking about solving problems during his two terms as Denver mayor and two terms as governor — getting suburban mayors to come to the table to come up with transportation solutions, bringing together the fossil fuel industry and environmentalists to craft rules on methane emissions — but with the added urgency of repairing an economy damaged by the COVID pandemic.
Referencing the Biden campaign's "build back better" line, Hickenlooper says the country can accomplish what Colorado did after the catastrophic 2013 summer of fires and floods.
"I believe when we invest in our environment we invest in jobs," Hickenlooper said in a video he submitted for a candidate forum sponsored by the Colorado Water Congress on Aug. 27. In the pre-recorded message, he also talked about his work as governor extended rural broadband internet, developing the state's water plan and stimulating small town economies with state assistance.
"We face unprecedented challenges today. Millions of Americans have lost their jobs and with their confidence that they'll be able to pay next month's rent or mortgage. They did nothing wrong. The anxiety they feel is made even worse by the reckless inaction of the United States Senate when it comes to deliver much-needed relief to American families."
He said climate change has inflicted another year of drought on Colorado, while farmers and ranchers bear the brunt of Trump's "irrational" trade wars and tariffs.
Playing out in ads
It's an open question whether the two Senate candidates will have the chance to do that in front of an audience, though, since at press time, Hickenlooper and Gardner had only agreed on one debate, an Oct. 2 meeting in Pueblo.
The Democrat has spurning invitations to earlier debates in September — including Club 20's traditional kick-off to the fall campaign season in Grand Junction — while Gardner has declined several invitations issued by major media organizations later in October, including a debate on Telemundo, the state's Spanish-language network, after ballots are out.
But mostly the Senate battle is playing out in a steady stream of TV ads, with Gardner and Hickenlooper talking about their accomplishments, while the Democrats and their allies attack Gardner for his ties to Trump and the Republicans blast Hickenlooper as "slick," "shady" and "too corrupt, even for Washington, D.C."
National Republicans have been inundating viewers with ads since June, when Hickenlooper was running in a primary against former state House Speaker Andrew Romanoff and was hit with a contempt citation by the state's ethics commission for defying a subpoena to testify before the panel and was found to have violated a state gift ban by accepting travel on private jets. Since then, the ads have tried to tie Hickenlooper to a deadly pipeline explosion and a Commerce City refinery that spewed tons of dangerous emissions.
Democrats say polling shows the ads are falling short of their intended effect, since Colorado voters have known Hickenlooper for years and generally like him.
"I've never seen attack ads like this until I ran against Cory Gardner," Hickenlooper told Colorado Politics in an Aug. 27 interview.
"Cory Gardner doesn't have much of a record he can defend. He's stood beside Trump 100% of the time. He's voted 13 times to try to get rid of the Affordable Care Act, which would leave over 2 million Coloradans without protection for preexisting conditions. I think that those attack ads aren't going to make a difference, because Coloradans know me, they know my record, whether it's expanding health care to a half a million Coloradans or taking on climate change or creating jobs, driving the economy, they know I will continue to fight for them and deliver in the Senate."
Hickenlooper, who famously took a shower with his clothes on to demonstrate his distaste for negative advertising in the first ad of his 2010 gubernatorial campaign, said he doesn't think the ads work in Colorado the same way they might elsewhere.
"This is Washington politics coming to Colorado," he said. "Coloradans aren't used to it, I don't think they aren't going to accept it, I think they're going to push back. If attack ads succeed once, then we're just going to get more and more and more of these kind of attack ads. I think we should just talk about the issues. Let's talk about health care, let's talk about climate change, let's talk about how to create jobs."
Colorado Politics writer Joey Bunch contributed to this report.