Back to school undeniably looks different this year for many of us, but one thing certainly hasn't changed: the need for new school supplies. Whether you (or your kids) will be distance learning this year or front-and-center, in-person in the classroom with coronavirus precautions being taken, the proper supplies are still a must. (Though this year, hand sanitizer and face masks are high on the supply list.) With money a huge concern in the current COVID-impacted economy and families experiencing more health and safety-related hurdles than ever, making eco-friendly choices is certainly a struggle.
Even still, we hope you take the eco-friendly route whenever you can, despite circumstances that may make it difficult. Not sure how to do that? Use a reusable water bottle, go back-to-school shopping at secondhand stores when you can, and buy used books. Reuse old supplies if they're still in good shape, but if that's not an option, check out these eco-friendly school and home office supplies that are better choices for the environment but don't put you over budget either.
Writing Utensils
Technology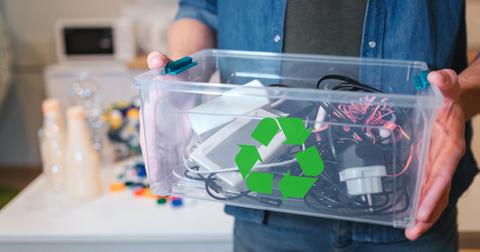 Here's where it gets truly tricky. A lot of technology is made with plastic — specifically, black plastic which is generally more difficult to recycle. But, not all tech and tech-related products are plastic. Remember, the most sustainable option is always using what you already own — but if it is time to replace any electronics, make sure to properly recycle everything!
Computer mouse: OCT17 makes a biodegradable, wireless laptop or computer mouse made out of bamboo, sold for under $20.
Phone accessories: Pela sells different eco-friendly tech accessories — from biodegradable, plant-based phone cases and smart watch bands to AirPod cases, phone grips, card holders, and liquid screen protectors. Plus, Pela is also offering a buy one, get one free sale right now during coronavirus. (They want you to have an extra phone case while you sanitize the other one!)
Charging dock: Charging docks are a hot commodity right now, especially since many of us have multiple devices that need charging at once. But don't go for the plastic or acrylic one. You can find bamboo charging docks on Amazon for under $20.
Headphones: AirPods might be all the range but ultimately, they're plastic. If you're in the market for new headphones, check out The House of Marley, a sustainable company that works with One Tree Planted and offers headphones made from bamboo at price points ranging from $15 to $200.