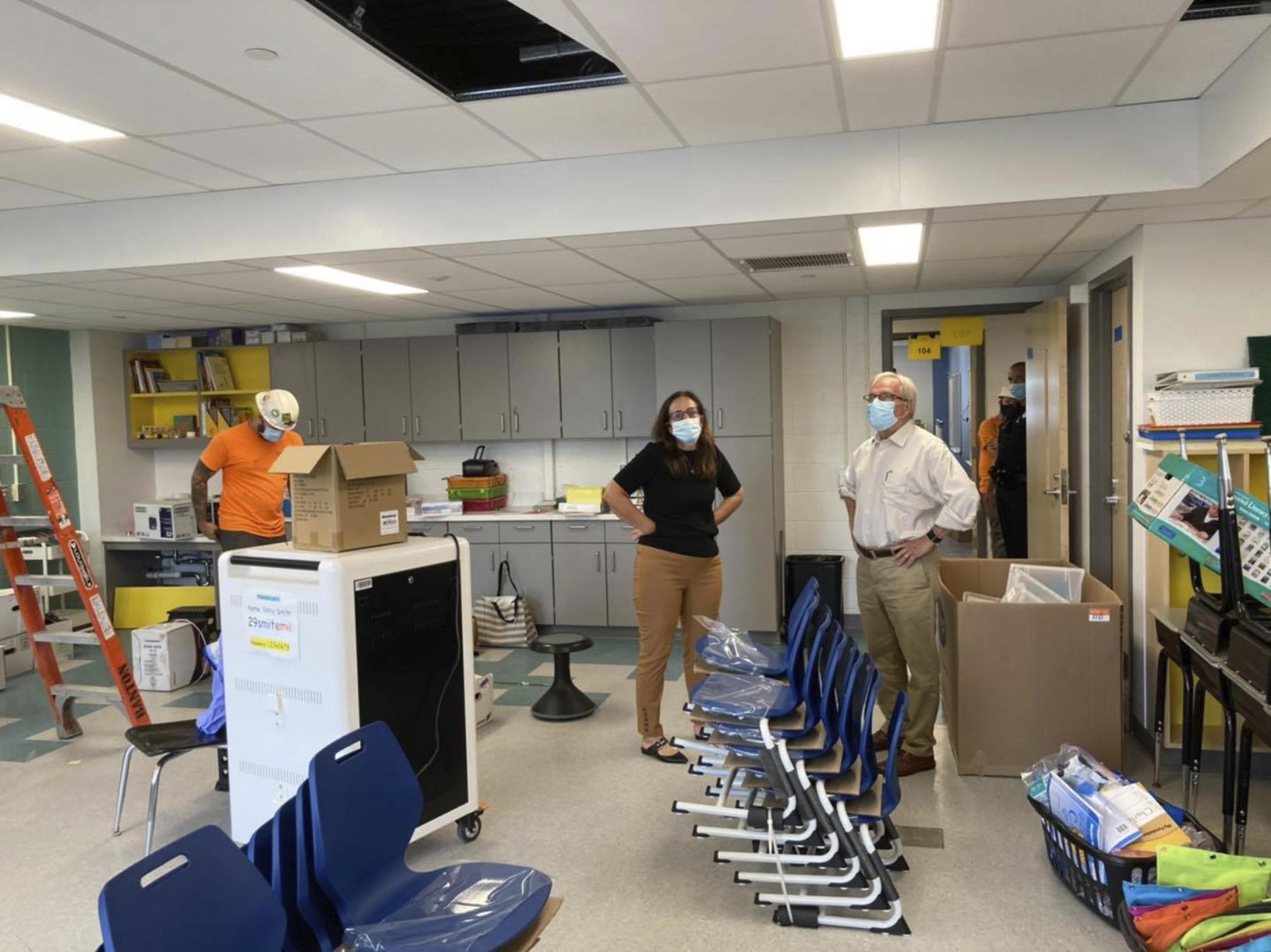 BETHEL — Students moved into upgraded classrooms last week , but—as has been typical for some local projects—the renovations to two elementary schools faced some delays.
The $65.8 million renovations to Rockwell and Johnson elementary schools are mostly complete, but work continues on spaces including the gyms and cafeterias.
Those areas should have been complete by the start of the school year, but school officials note those spaces are not being used anyway, due to coronavirus precautions.
"I would be more frustrated if we were (otherwise) able to occupy the space," Superintendent Christine Carver said. "They still need to work on the schedule and making up some of that time."
The construction company cited the pandemic as among the reasons for the delays.
The construction, remains on budget, although more money has been used for Rockwell than expected. Johnson has cost less than planned, so far. Some contingency money remains available. A state grant covers 45 percent of eligible costs.
Occupied spaces still have some issues—called punch list items—that must be addressed, Carver said. The building has a temporary certificate of occupancy.
Everything should be completed by mid-December per the construction company's contract with the district, said Tony Rizzo, CEO of Rizzo Corporation, the construction company.
"That was always the goal of the project," he said. "Through COVID and everything else that's occurred, we're still on track for that."
First Selectman Matt Knickerbocker said the delays were unsurprising due to the pandemic and he praised the look of the buildings.
"I'm very happy to see the progress they've made so far," he said.
Carver called the classrooms "beautiful," adding they are "a thousand times better" than before. Rockwell was built in 1971, while Johnson was built in 1980.
"Compared to what they (teachers and students) had, they're thrilled," Carver said. "The classes are bright, with lots of natural light. The technology has improved so much. The functionality of the spaces are significantly better."
Delays and challenges
Crews found more hazardous materials than expected at Rockwell, which caused costs to increase and led to construction delays, Rizzo said.
Problems like this are common in renovation projects, he said.
"When you're dealing with existing facilities, again, there is a lot of unknowns that surface, that you didn't know about it until you open up a wall, you don't know about until you take a test, you don't know about until you take down a ceiling," Rizzo said.
Construction continued throughout the pandemic, but the workforce was stretched thin and some supply deliveries were delayed. Some workers could not come in due to fears of getting sick or subcontractors testing positive, Rizzo said.
"COVID-19 had more of an impact than people think on construction," he said.
The company adjusted its construction sequencing due to this and focused on priority areas, Rizzo said.
The August tropical storm led to workforce problems, too, because crews called out due to issues at home, he said.
At Rockwell, work will continue through September in the gym, cafeteria, faculty dining, music room and some other areas, according to the latest monthly report. Construction is ongoing through October at Johnson's gym, cafeteria, health classroom, physical education offices and other spaces.
Playgrounds are scheduled to be installed the week of Oct. 19.
The kitchens are done in both schools. Students eat in their classrooms during the pandemic.
"Most of the challenges and obstacles are behind us now," Rizzo said.
Historical challenges
In the past, Bethel projects have hit delays or run over budget because actual costs became greater than early estimates.
The library took 13 years to complete, with the town raising money and earning a state grant to finish the second floor. Features of the high school, Berry Elementary School, Stony Hill Firehouse and municipal center projects were sacrificed to keep them within budget.
The tipping point was in 2018 when voters needed to approve an additional $889,000 to finish the new police station after it went over its $13.5 million budget.
Close to two years after officers moved into the station, they still cannot use the firing range. Rainwater seeps through the brick and experts disagree on why or how to fix it.
The initial budget did not include money for range equipment, but the town does not want to purchase it until the leaking is fixed.
The town hired a third-party engineer last month to determine what's wrong and address conflicting reports from the construction company and subcontractor's experts.
"Taxpayers are not going to pay to fix it," Knickerbocker said. "This is the responsibility of the contractors who constructed it."
But the elementary school renovations are much larger and "more ambitious" than other projects, Knickerbocker said. Not only were two schools renovated, but construction occurred while students and teachers were in the buildings, he said.
"It's really impossible to compare," he said. "They are sort of like a dingy versus the Titanic."
Still, the elementary renovations are doing far better than the renovations to the high school, which began in 2007, dragged on for years and spurred lawsuits, Knickerbocker said.
"From that perspective, the current school renovation projects are going extremely smoothly," he said.
The selectmen have discussed revising the town's charter to require Bethel to obtain completed construction plans before voters approve a project costing more than $1 million.
Rizzo said towns should spend money up front to get the most thorough designs and investigate potential issues.
"It limits the cost later on," he said. "A cost that may seem significant in the initial design phase pails in comparison when you're midway through a project and the problem surfaces."
But Knickerbocker said future projects should have an owner's representative—an expert who oversees the project and advises the town. As required by the state, Bethel had an owner's representative for the renovations.
Carver said she was skeptical of the need for the representative, but the person helped with a myriad of tasks, such as coordinating, processing paperwork and overseeing the furniture.
"It would be completely unmanageable without having that service," Carver said. "It's just too complicated."
The Public Site and Building Committee does a great job overseeing projects, but they are volunteers and construction regulations and requirements have become complicated, Knickerbocker said.
"We really have to look for a different model because I don't think it's realistic to expect to find citizens with that kind of construction background to adequately manage a construction project of that magnitude," Knickerbocker said.
'Impressive' upgrades
Visitors are not permitted in the buildings due to the pandemic, but those that have been inside have raved about the upgrades.
"The learning spaces are very well designed," Knickerbocker said. "They're impressive. They're flexible."
He said he was particularly impressed with the new science, technology, engineering and mathematics space at Johnson.
The school board started studying the need for renovations in 2010. Officials have said the buildings had various issues, including hot classrooms, crowded office spaces and an inadequate number of electrical outlets for the technology teachers and students use.
That's changed.
"The technology is state of the art, which is really important for the 21st century learner," Carver said.
The buildings are meant to encourage critical thinking and teamwork among students, she said. The latter is difficult due to coronavirus restrictions.
"The spaces were designed to do something that we actually can't do right now, which is really designed to incorporate collaboration on projects," Carver said.