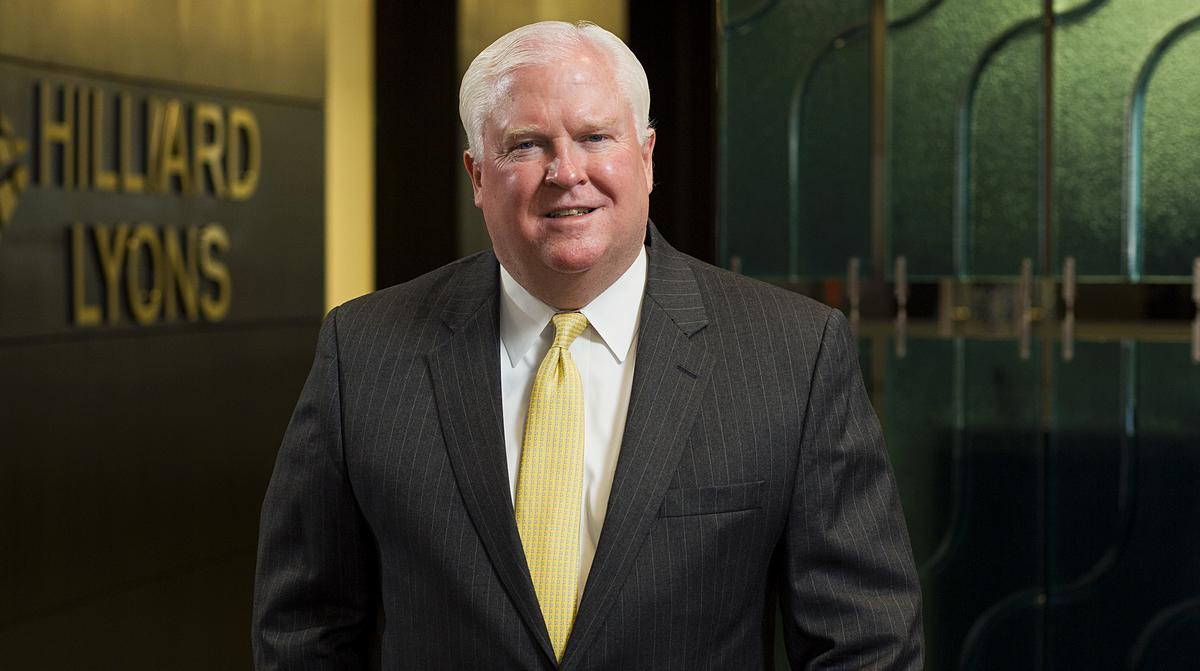 One of Downtown Louisville's most high-profile tenants is making a huge commitment to the city's central business district.
Milwaukee, Wisconsin-based Robert W. Baird & Co., which previously acquired Louisville-based Hilliard Lyons and Hilliard Lyons Trust Co., plans to relocate and modernize its Downtown Louisville offices at 500 W. Jefferson Street in a project that will cost more than $20 million.
Jim Allen, a vice chairman with the company's Louisville office, said Baird plans to relocate the offices from floors six through 12 of 500 West Jefferson to the office tower's top five floors: 25-29.
He said the new offices will be about 93,000 square feet — roughly 70% of its existing footprint in the building — and will better reflect the size of its Louisville staff. The company has about 170 employees there post-acquisition.
Allen said the new offices will offer a modern open floor plan and will feature the latest technology and videoconferencing capabilities, which the current offices lack.
He said the space will be a combined celebration of Hilliard Lyons' history in Louisville and Baird's history. Hilliard Lyons' roots can be traced back to 1854, easily putting it among the oldest companies in Louisville prior to the acquisition.
"It will be some marquee space in Downtown Louisville," he said.
The 29th floor will be home to Baird's upgraded conference center, which will be comparable in size to its existing conference center on floor 12 with more modern features and capabilities, Allen said.
The conference center will be used for Baird's internal business and client meetings but also will be offered as an amenity to local philanthropic and civic organizations for their own events, he added.
Baird is taking the new space down to its shell, and Allen said the company hopes to move in by April 2021. Baird will remain in its current offices inside 500 West Jefferson until the project is complete.
Louisville-based Miranda Construction LLC is the general contractor while the project's design and engineering team includes Chicago firms Gensler and IMEG Corp. and Louisville firms KPFF Consulting Engineers and ID&A Inc., according to construction plans filed with Louisville Metro Government.
A long history downtown
Baird's multimillion-dollar commitment to Downtown Louisville comes as the Covid-19 pandemic has battered downtown businesses and as many office users are still working remotely.
Furthermore, numerous downtown businesses and office buildings remain boarded up as concerns and uncertainty about the results of the Breonna Taylor death investigation linger.
"Hilliard Lyons has a 165-year plus history in Downtown Louisville," Allen said. "We have been committed to downtown for our entire existence and have been responsible as a financial adviser for a number of projects downtown."
One of the most noteworthy is its status as an underwriter and financial adviser for the KFC Yum Center. Allen also noted that the company is a strong supporter of downtown arts organizations and arts venues.
"We want to be part of the solution moving forward in Downtown Louisville and help set the tone for the future," Allen said.
Beyond the ongoing civil unrest, the 500 West Jefferson office tower is allegedly involved in a Ukrainian money laundering scheme, according to a recent civil suit filed by the U.S. Department of Justice in U.S. District Court for the Southern District of Florida.
The federal government has alleged that Ihor Kolomoisky and Gennadiy Bogoliubov, owners of PrivatBank, embezzled and defrauded billions of dollars from the Ukrainian bank between 2008 and 2016 and used fraudulent loans and lines of credit to purchase millions of dollars of real estate and businesses, including the Louisville office tower.
Allen said Baird is monitoring the situation but believes the investigation will be resolved favorably, which is why it is moving ahead with the project.