The pandemic has changed people's daily life and habits. Companies were working from remote offices and students use online education from home. Traffic decreased in the business districts and increased in residential areas. In such conditions the impact of any minor networks fault is magnified many times. Connectivity was never more important and operators had to work hard to meet the rising capacity demand. There was enormous pressure on O&M staff to deliver assurance remotely and ensure that everyone was connected to the network with the highest quality. Site maintenance had to be scheduled according to the city lockdown regulations and in many places home visits were completely banned. To address these challenges O&M needed automation, intelligence and the ability to resolve problems remotely.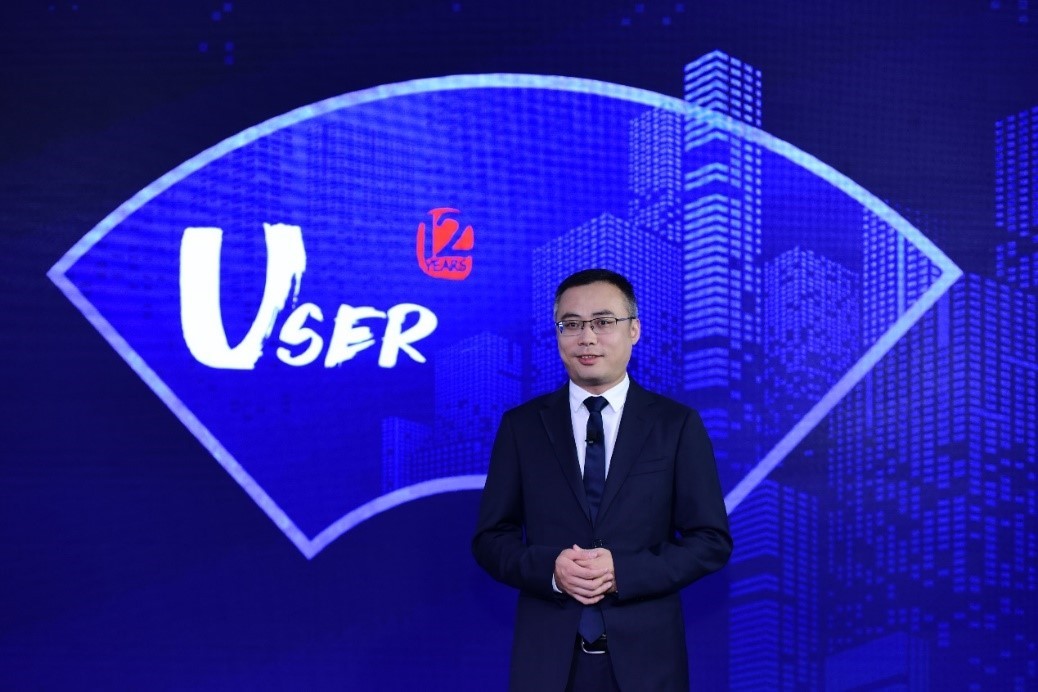 Lucas Lu speaks at Huawei User Group Meeting 2020
This is where Huawei's AUTIN solution played a key role.
AUTIN helped us evolve from people centric to machine centric operations.
AUTIN's new operation model called Man-Machine Collaboration came at just the right time to meet the operational challenges created by the pandemic. By combining the intelligence of people and power of machine we can bring greater value to operations. People have been running operations for many years and have accumulated many assets, best practices and key learnings. We know the network very well and the machine may not know much about the network. But if we transfer our knowledge to the machine then we can leverage on the machine's computational power, analytics and real-time capabilities to deliver 2 key values – automation and intelligence. Then the machine can do more of the repetitive and complex tasks through closed loop operation with greater efficiency and accuracy resulting in fewer operational errors. Through intelligence it can leverage on network data to predict and pre-empt problems before it impacts the network or the end-users.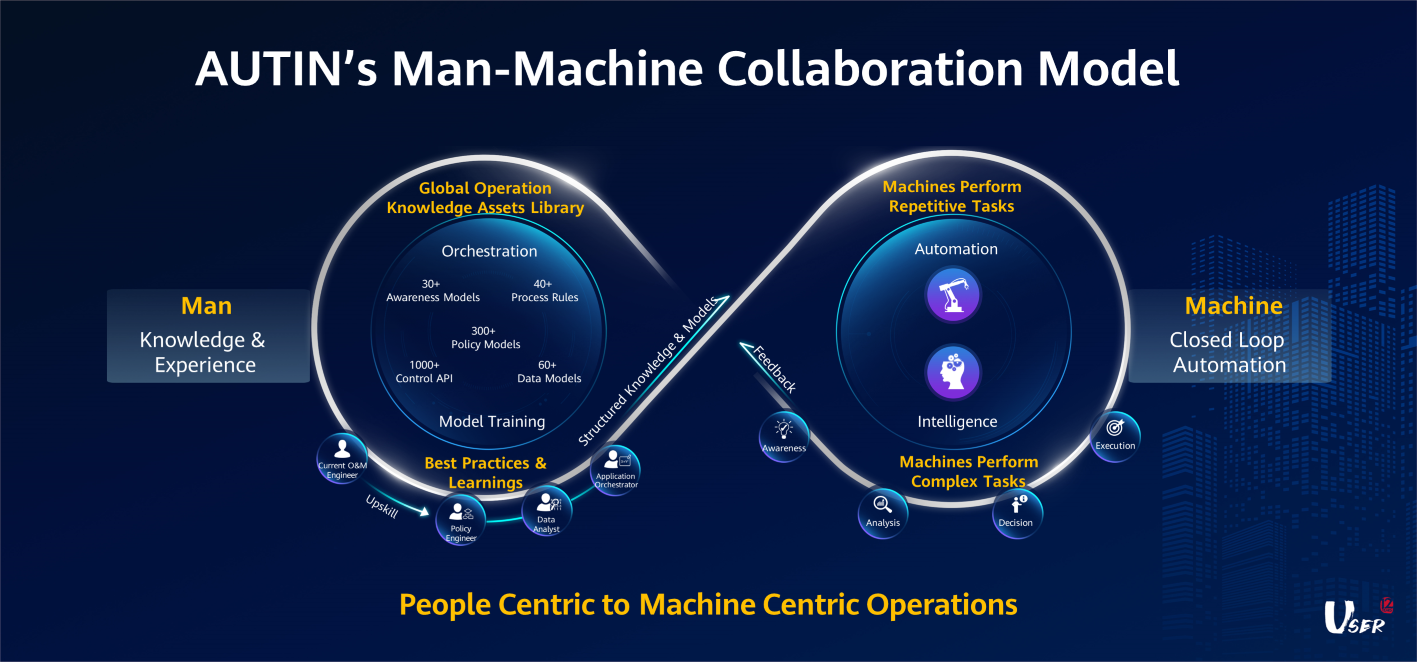 AUTIN's AI powered operation brings the following 3 key values to operation:
Pre-event: Leveraging on historical data it can predict and prevent problems before it impacts the network and the end-users. By identifying network risks in advance they can proactively resolve the issue before it becomes a problem.
In-event: If an alarm do occur then the machine will do automated troubleshooting without human intervention, such as diagnose using fault trees to find the root cause and locate the problem, and finally resolve the alarm through self-healing or send an engineer to site if needed.
Post-event: After the problem has been resolved AUTIN can provide feedback that allows the staff to continuously optimize assets such as prediction models.
AUTIN's solutions cover operations across all domains.
HBB user complaints prediction, one user one care
In home broadband operation, many operators want to improve the end-user experience and reduce the huge number of site visits. Huawei's FBB intelligent O&M solution addresses these issues with predictive operation. It conducts performance analysis for optical power and packet loss across every ONT.
Secondly, it can precisely demarcate the problem. Here it uses ODN topology generation and diagnosis rules to identify where the problem lies, try to resolve the problem remotely once identified. Only if that is not possible will it generate a work order for an engineer to go on site and resolve the problem with one site visit. Where this solution has been implemented we have seen customer complaints reduced and lowered the NOC work orders.
MBB Intelligent Assurance with Zero Invalid Site Visits
In mobile broadband operation our solution comes with 4 key innovations:
First is our prediction and prevention which covers hardware and services. It can predict problems which enables operators to resolve problems before it impacts the network or the end users. Second is the E2E topology generation using LLDP. It automatically generates the network topology, which allows the operation staff to visually see where the alarms are across all domains resulting in faster fault demarcation. Third is the 4G/5G fault self-diagnosis which identifies the location of the faults using AI technologies. Finally NFV fault self-healing and intelligent network change assistance solution which enables cross-layer fault resolution and overcomes the low efficiency caused by silo operations and reduces man made accidents to virtually zero.
The outcome for operators of these innovations were increased efficiency, reduced NOC processing time and agility to introduce new use cases.
Drag-and-Drop Orchestration Adapt to Requirements
AUTIN have empowered operation staff by giving them the ability to build Apps to address their unique requirements.
This is made possible by the capabilities of AUTIN such as the studio, atomic APIs and a unified data platform. Today we have over 9000 developers globally who have undergone the training and certification to transform themselves to build Apps in a DevOps framework. The staff can build and test these applications in a very short span of time and once proven they can be shared with other operations around the world as best practices.
Over the last 15 years Huawei has been investing and continue to invest in all aspect of operations which has resulted in numerous innovations. In 2015 we introduced the OWS, our software defined operation platform based on micro services architecture. This was the first step towards intelligent operation. In 2018 we enhanced the capabilities of the Studio and leveraged on AI to predict and prevent faults. And today with our open ecosystem and Man-Machine collaboration model we have entered the second phase of intelligent operation.
We are continuously investing and evolving to target digital architecture for protecting CSP's investment and to address the new requirements of the 5G era.
– Lucas Lu, Director of Assurance & Managed Services Dept., Global Technical Service, Huawei
This content is sponsored by Huawei.