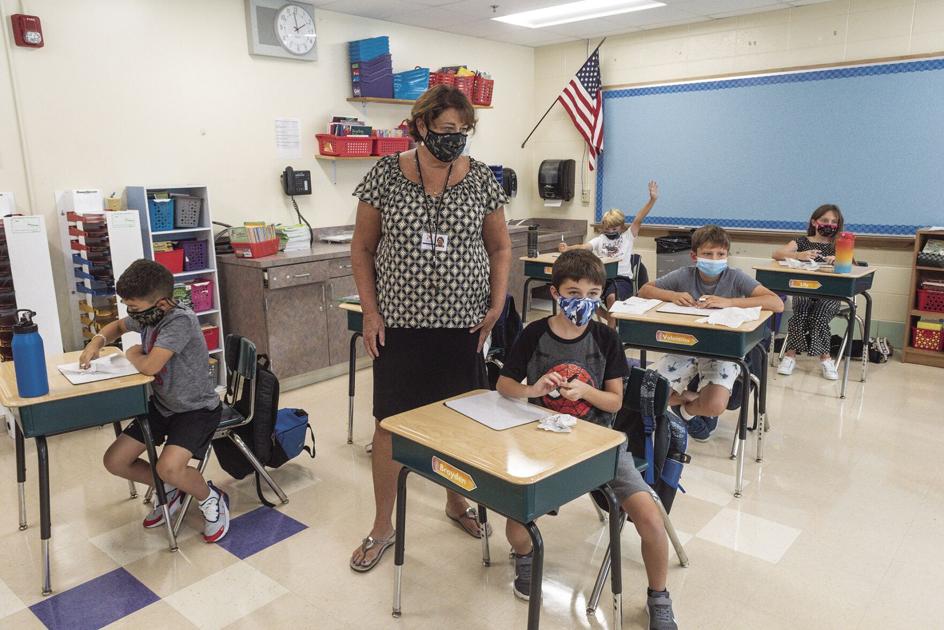 South County schools opened this week, but with increased preparations, and a delayed start among many changes educators, parents and students are confronting.
Apprehension combined with excitement and commitment are some of the feelings parents, students, teachers, school staff and administrators talked about to The Independent as school doors opened and students filled hallways.
"Overall, this year is very different," said Lisa Wilson, principal of Narragansett Elementary School, noting that in past years summer planning centered around academics, enhancing curriculum and teaching and learning practices.
"This summer, we not only focused on those specifics, we also spent every day preparing the school's physical space and the staff mentally for the differences necessary to open school safely," she said.
For parents, back to school brought quandaries about in-person, online or a hybrid for their children among many other concerns that also involved athletics and extra-curricular activities just as important in the normal lives of students.
For instance, Lindsay Olivier of North Kingstown said her fourth grader, Cortland, prefers to learn in the classroom and be with his friends. Others said opening week meant thinking about whether chorus, band, drama or sports would be the same again.
Parents and school administrations as well as local and state education officials planned this year's opening for several months, with no easy answers.
"State leaders and school communities have risen to meet challenges never before seen in our lifetimes," said Angélica Infante-Green, state commissioner of Elementary and Secondary Education.
"Rhode Island is ready to learn. It is time to put good curriculum and instruction front and center once again," she said, noting that following the move to distance learning last spring local and state officials "worked around the clock to make sure our students and school staff can return to learning."
In a typical year, nearly two-thirds of the nation's 50 million public school children have returned to their classrooms by the third week of August, according to published reports. This year, districts across the country have delayed the start of school or opened remotely, in deference to coronavirus concerns.
With individual districts expected to come up with their own response to the complications wrought by the pandemic, teachers, coaches, schools administrators and staff spent their summers thinking about and planning their approach. The Independent talked to some South County school professionals and staff, as well as parents, about their preparations.
School Nurse
Colleen Schnack is a certified school nurse teacher and has spent the last 21 years with the North Kingstown schools.
"All of the school nurse teachers and I started working on this 20-21 school year right after the ending of school in June," she said, noting that this included calls with the Rhode Island Department of Health (RIDOH) and video conferencing with the school system's medical director, area pediatricians and administration officials.
She said they discussed and focused on creating important policies and procedures and there also were conversations with parents, too.
"Parents are worried and have lots of questions so we've been communicating with them much more than usual this summer. It's important that everyone receive accurate information," she said.
"We (also) need to be very current on that information so that there is less chance for confusion. It's also important to us to help allay anxieties and fear among students and families. This is a stressful time for all," Schnack said.
In terms of the everyday routine, she said, "the daily COVID screening for staff and students will drive the day for us. We've had to completely change the culture and philosophy regarding sending mildly ill students to school."
"In past years, we encouraged families to send students to school with colds, coughs and mild illness. So, we've had to educate families that mildly ill children need to stay home," she said.
The day will begin hours before school begins because families and staff will need guidance before deciding whether to come to school. "The day will end well after school is dismissed as we follow up with the RIDOH and families regarding student status, contacting tracing and next steps," she said.
"COVID has changed everything. The staff and myself will be very vigilant about identifying ill students, isolating and releasing them to their families," she said, adding that "I think we've adopted long work days, like everyone else involved in the reopening of schools."
"It's a monumental task. I'm in awe of the amount of planning and work that is being done," Schnack said.
"Most of us were here during the H1N1 flu pandemic, but this cannot even compare. I don't know that any of us could've prepared for something like this," Schnack said.
Elementary School Principal
Wilson, principal of Narragansett Elementary School, said her job is to oversee the education and safety of the entire building. She also was a principal in South Kingstown and has been in education for more than 30 years.
This summer, the administrative team attended virtual professional development sessions to prepare the teaching staff to provide a curriculum for in-person and distance learning, she explained.
"We spent many hours on both the district and school-based planning committees. These committees helped with our overall district plan we submitted to Rhode Island Department of Education, and plans shared with families and staff to communicate what school would look like in the fall," Wilson said.
This meant covering three scenarios: in-person, hybrid and distance learning. Additionally, she and her staff needed to have video conference meetings to remain updated and staff members spent many hours reconfiguring classrooms so social distancing and safe spaces were possible.
"There have been more parent conversations (for) listening and advising them on the difficult choices of whether to send their child or children to school, to opt for distance learning or to homeschool," she said.
Staffing needs have changed as some members will be working from home for health and safety reasons related to COVID, she pointed out. Those teaching from home have become distance learning teachers while other staff members have been assigned or have applied for such positions.
New hires have covered classes vacated, she said, adding, "We are fortunate that even in a pandemic, teachers want to come to Narragansett and be a part of this community."
She said her staff had to create templates with common planning to ensure all students, in-person or distance, still receive the same common core standards-based instruction and have the opportunity for small group instructions for the student grade level.
Among new tasks for the new and unprecedented year, she said, is making sure students wear their masks and stay socially distanced.
Gone is the ease for so many years that allowed "children (to) buddy up, sit in small groups, work together problem solving in close proximity, have freedom to get their own supplies, choosing what tools they need to learn, etc.," she said.
"We will continue to look for creative ways to help students remember what they can do and should do to keep themselves and the community safe," she said, and "provide the student body with daily inspirations and reminders of their importance in our school so that we can stay in school as long as possible."
"This is unknown territory and I need to work with all stakeholders to help make the best decisions for students and their learning, both academically as well as emotionally," she said.
The budget has been adjusted to provide outdoor seating for classes and includes the ordering of safety materials, such as mask holders when students remove masks during lunch and snack times.
It also includes more staff coverage for classes, lunches and students both in person and at a distance, she said.
"Few (teachers and staff), if any, have been trained in handling a pandemic while teaching elementary students or being a principal for an elementary school," she said.
"This is completely new territory. That being said, when the time came, our teachers dug right in and in a very short time, were working together to support the students and families for at-home learning," Wilson said.
It is an entire school community effort to adjust and to reopen the school, she said, adding, "One thing I know for sure is that there is no way I could do this alone."
"The great thing about Narragansett is that there is an incredible amount of support for teachers, staff, parents, and students during this time with a common goal of educating children while keeping them safe," Wilson said.
Athletic Director
Terry Lynch is both director of athletics and physical education for the South Kingstown schools. He has seen many circumstances arise in his many years in these positions in an education system.
The big change in his area will include screening for the virus. "I must ensure the health and safety of all that enter our complex," he said.
"We will need to screen our athletes, coaches, game day staff, referees and spectators. I must set my venues differently so as to ensure social distancing, we must have hand sanitizer at the entrances, scorers' table and in our press box," he said.
There also will be a limit on the number of spectators allowed coupled with regular cleaning of equipment. Students must have their own hydration and their own gear and the school system must provide hand sanitizer for all practices, Lynch said.
As athletic director, all these requirements and more mean he has to have his eye on all the moving parts under his operations.
"As athletic directors, we have to be flexible and have the ability to adapt to situations, this is no different, although a much larger scale," he said.
"Athletics are essential to the educational process in a young person's career, so to be able to get our students back on the playing field, connecting with their peers and competing is important," he said.
Classroom Teacher
Kristin Hayes-Leite was the 2018 Rhode Island Teacher of the Year and has been an educator for 19 years, starting on September 11, 2001. Her career began with terrorist attacks on the country and this year it includes dealing with a classroom- and education-changing pandemic.
"In the past, I took great pleasure in 'setting the stage' that is, preparing my classroom to be welcoming as well as visually appealing and organized," she said. Now she has multiple classrooms to deal with.
"This year I am teaching in six different rooms so that aspect of preparation was gone," the Narragansett High School social studies teacher added.
She said that she is now finding a greater emphasis on technology to work with students – both in the classroom and at home.
"I am now teaching the students at home at the same time as the students in front of me in person. It is a challenge to ensure that the technology works and that both groups are engaged and get the help they need during the class," she said.
That comes amid other chores such as wiping down desks in between classes. A top priority, she said, is monitoring the emotional well-being of students and encouraging them to practice healthy coping strategies when they feel anxious or overwhelmed.
The effect of the many changes facing her and schools in general means getting to school earlier and spending time creating lessons that will work for both students in school and at home, she said.
"It has definitely increased the time that I spend outside of the school day working. That means less family time, but I am fortunate to have a husband who is supportive and helps me get through the day," said the teacher who embraces new instructional strategies and technology to help navigate the changes brought by responses to the pandemic.
"Schools don't run without teachers – so our collective effort is vital. Teachers are concerned about safety, yet also want to do what is best for our students. At the end of the day, we will do what it takes to ensure that our students get the best education possible under the circumstances," she said.
School Secretary
Carolyn Jean "CJ" Tudino is a school secretary in Narragansett Elementary School and often among the first faces seen for those entering the building's administrative office. She's also a gatekeeper for helping things run smoothly at the school.
"This year with COVID-19, all things and plans changed. Every order (for materials and supplies needed) had to be re-evaluated. Teachers began reviewing what they may need, keeping in mind that the situation could change instantly," she said.
"Our office team has worked harder than ever, all of us dedicating time in the office then at home reworking schedules to accommodate students for in-person or distance learning all summer long," she said.
"These schedules include busing, classrooms, lunch and recess schedules, arrival and dismissal procedures, even down to bathroom breaks," Tudino added.
Like other school professionals interviewed, she said that typically summer was the time of year for vacation and relaxing, but not this year.
"Instead, we increased our hours to ensure all staff and students would be ready for the start of school this fall," she said about the compressed schedule to be ready on time for opening day.
"I feel my job will continue to be a facilitator between the staff, parents and students, at a heightened level. My focus is to alleviate the anxiety and stress at each level as we enter this new territory, beginning with the students," she said.
She said that her past experience of working in special education and with the children as a teacher assistant helped prepare her for times of uncertainty, such as the COVID-19 pandemic.
"My partner secretary, Nancy Kenyon, and myself are the first faces everyone sees in the morning and we want to continue their experience as a friendly, kind, and welcoming one. During these times, this is a most essential role for the well-being of our kids," she said.
Custodians
ABM Industries, a facilities management company, provides janitorial and other similar services for the North Kingstown schools. Dennis Flynn, ABM account manager, has been leading the effort in the schools since 2012 and said preparations for the school year have had the firm's close focus.
"Our team members have always been dedicated to helping to provide a clean, healthy and safe environment for students, faculty, staff and visitors. COVID-19 has created a shift in mindset around the world as janitorial services were historically viewed as just another operational expense and often an activity that was hidden away," he said.
ABM's 30-member team for the school system is now viewed as an essential workforce helping to fight the spread of COVID-19 and to protect teachers, staff and students against the coronavirus and now as well as other seasonal and endemic pathogens, such as the annual flu or influenza, he said.
"Throughout the summer, we worked closely with the school system to create and implement a plan to safely bring everyone back," he said.
This has meant helping to clear out classrooms so there are less surfaces that students and teachers can touch, installing signage to remind everyone to help do their part, such as social distancing, increasing the frequency of disinfection that is focused on high-touch points like light switches and door handles.
Flynn said the nationwide firm introduced specialized disinfection measures such as using electrostatic sprayers in large spaces.
"Throughout COVID-19, the firm has been following federal recommendations and established its own expert advisory council," he said. It is comprised of authorities in infectious disease and industrial hygiene and advises on ways to maintain consistent and high-quality standard operating practices, he added.
It also helps ABM keep updated "on the newest equipment and technologies to combat COVID-19, and equipping our team members with best-in-class training," he said.
With the strong demand on cleaning services, he said, the firm has shifted more of its team working for schools to be present during the day instead of night shift hours.
Parents
Most parents interviewed were eager to see their children return to in-school classes, if only for part of the time.
Lindsay and Bob Olivier of North Kingstown have a son, Cortland, 9, a 4th grader at Forest Park Elementary School where Lindsay is co-president of the school's parent-teacher organization.
"The only thing that is different this year is making sure we have enough masks for him. Everything else is still the same, going back-to-school clothes shopping, getting some school supplies, new haircut, etc.," she said.
He will be in school for a full day, which he prefers for both the learning and seeing his friends.
"Our son is excited to go back to school, but isn't happy he has to wear a mask. But we've explained to him that by him wearing a mask he's helping to stop the spread of germs," she said.
Heather Kisilywicz is president of the Narragansett High School PTO. She has two sons, Jack, 18, who is a senior and Thomas, 16, a junior, in the school. She also has another son, Ben, 13, who is in eighth grade.
"Overall, it is preparing as usual. I know COVID is in the back of all my sons' minds. However, the back-to-school prep excitement has been a wonderful 'almost normal' process that feels great," she said.
Her sons will be doing a hybrid learning, part online and part in class, she said.
"The split learning is a great chance for my sons to make connections with their peers and teachers and I know they are looking forward to seeing everyone," she said.
"What I like about it is that the hybrid model reminds us all that "it's not over yet" and this is a gradual phasing into the 'new normal,'" she pointed out.
"It's a good break from having to wear their masks all day, every day, by breaking it up with some comfort at home while still learning," Kisilywicz said.
It's also the first week in a new preschool for Jackson Charello, 3, of Narragansett. He'll be going to the preschool program at Narragansett Elementary. However, COVID-19 took away his mother's chance to be with her son when he went into his classroom.
"(It) was hard not being able to walk him into his classroom and getting him settled," said Ashley Charello.
"In the past, we have been able to drop Jackson off at daycare and have enjoyed spending some time interacting with the other children in his class or speaking with his teachers about how he was doing," she said.
"Communication with his teachers will surely be different, however, we will have to find new and innovative ways to go about things," she said.
Last week he was able to spend about 15 minutes with his new teacher and that pleased his parents, including mother Ashley who was laid off earlier this year. Meanwhile, the daycare for Jackson and sibling, Elorie, 2, closed, leaving her suddenly a stay-at-home mom with two toddlers.
"Throughout COVID I have tried to take things day by day," she said. "It was difficult and stressful at first, however, once we found our groove things got easier."
"As a family, we went back and forth for months about what is the best decision for Jackson. He loves school and has missed it so much," she remarked.
"We have spent five months wearing masks, socially distancing, and washing our hands continuously, so having to do them at school will feel normal for Jackson," Charello said.
"As parents, we feel Jackson is ready and we truly appreciate the hard work from all the teachers and administration at Narragansett Elementary School," she said.