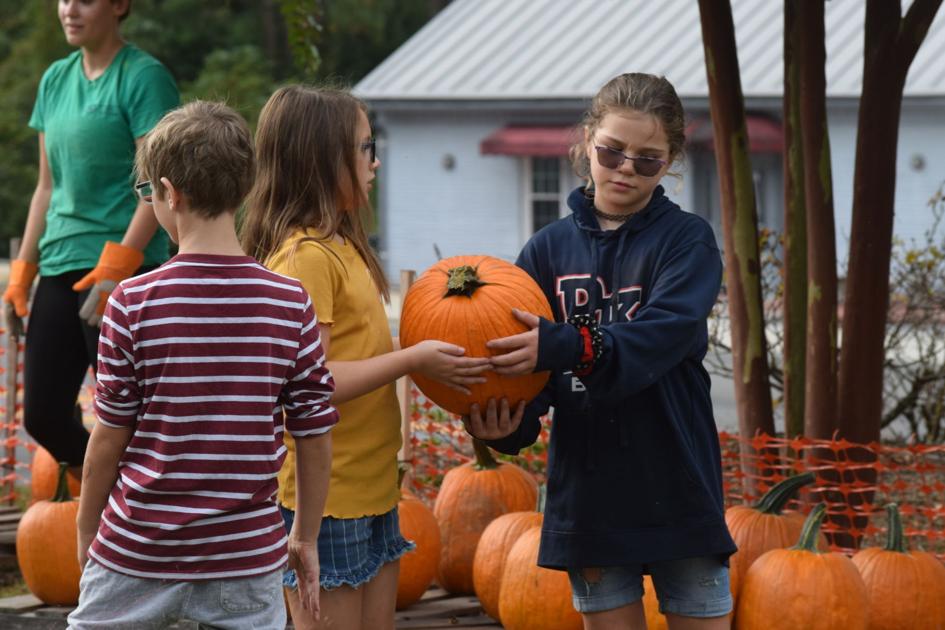 From walking trails to sports, arts, music and history, Aiken County offers a variety of mostly free activities and things to do for the whole family during the fall season.
Stroll in Hopelands — Relax and walk the network of paths shaded by live oaks and deodar cedars in Hopelands Gardens. The trees are believed to have been planted by the garden's former owner, Hope Goddard Iselin.
Listen to a story — Storytime in the Gardens is held every Tuesday at 4 p.m. through October. Children and their families can enjoy a story – and receive a free book – on the grounds of the Rye Patch.
Get artsy — The Aiken Center for the Arts showcases artwork created by local artists in its gallery, offers art and music classes for children and adults, and boasts unique gifts in its shop.
Learn the history of SRS — The Savannah River Site Museum, located on Laurens Street in downtown Aiken, recognizes the site's achievements that helped the U.S. win the Cold War.
Enjoy a round of golf — Enjoy the cool fall weather and play a round at one of the area golf courses. Aiken offers several private and public courses that cater to experienced golfers as well as novices.
Experience colonial life — The Living History Park on West Spring Grove Avenue in North Augusta is a perfect setting for concerts, picnics, recreation, weddings, community events, historical demonstrations and seeing living history.
Picnic at the river — Boeckh Park, located in the Hammond's Ferry neighborhood in North Augusta, offers views of the Savannah River and is the perfect place for a picnic.
Race with champions — The Aiken Thoroughbred Racing Hall of Fame and Museum celebrates the city's tradition of horse training. Forty champion Thoroughbreds have trained at the famed Aiken Training Track. The Hall of Fame is in the carriage house at Hopelands Gardens.
Take a hike — More than 70 miles of sandy trails for both pedestrians and equestrians wind through Hitchcock Woods, and it's only footsteps away from downtown Aiken.
Catch a train — The second floor of the Aiken Visitors Center and Train Museum, in the rebuilt Aiken Train Depot, has nine dioramas that depict the towns, as they were in 1916, along the South Carolina Canal and Railroad Company's Charleston to Hamburg Line. The Visitors Center on the first floor has maps, brochures and more information about the area.
Take a walk — The 1-mile track at Virginia Acres Park in Aiken is a great place to get in daily steps. The Gregg Park Civic Center in Graniteville has a lighted, half-mile, paved walking track with scenic views of the park's pond.
Play disc golf — The Langley Pond Disc Golf Park in Burnettown is a championship-level disc golf course. Virginia Acres Park also has a course.
Explore wetlands — Walk through a wetland preserve. Brick Pond Park is a 40-acre restored wetland and wildlife habitat located in the heart of the City of North Augusta along the Savannah River.
Go green — The North Augusta Greeneway Trail allows visitors to walk or bike along the Savannah River and through neighborhoods in North Augusta for more than 12 miles.
Go fishing — The 30-acre pond at Boyd Pond Park has a 300-foot boardwalk waiting for fishermen and fisherwomen to sink their lines. A boat ramp also is available for free. All South Carolina fishing laws apply to the pond.
Hug a tree — Aiken boasts one of the most diverse collections of trees found in any municipal landscape with oaks from around the world and rare tree species that fill the city's parkways. The Arboretum Trail begins at the Aiken County Public Library and continues on Colleton Avenue. To access the mobile tour, dial 803-295-5008 on any mobile cellular device and enter the tree's number as posted.
Get festive — Shop from Aiken's Makin' vendors online, even though the annual in-person event was canceled. Visit the Aiken Chamber of Commerce website to browse arts and crafts vendors.
Book a movie — The branches of the Aiken County Public Library offer activities and events for children, teens and adults, including book clubs, play time, movies and clubs.
Discover history — From a gas explosion to famous residents, Aiken County has more than 60 S.C. Historical Markers waiting to be discovered. For a list of markers and their locations, visit scdah.sc.gov.
Tour a "Top Ten" — The Redcliffe Plantation State Historic Site in Beech Island has been named one of the "Top Ten Sites to Visit in South Carolina" by the S.C. African American Heritage Commission during Black History Month. Visitors can explore the exhibits and architecture in the preserved slave quarters and stables, walk along historic Magnolia Lane or attend one of the many seasonal programs with topics ranging from historic preservation to African-American history to holiday traditions. House tours are suspended, the grounds are open.
Watch the birds — Audubon's Silver Bluff Sanctuary in Jackson is a 3,400-acre woodland overlooking the Savannah River with pine and hardwood forests; 22 miles of horse and walking trails; 50 acres of lakes and ponds; 100 acres of grassland; and all kinds of birds and wildlife.
Step back in time — Housed in Banksia, a former Winter Colony home, the Aiken County Historical Museum offers information and educational displays from prehistoric times to today, including the Civil War and the Savannah River Site. Don't forget to visit the gift shop.
Cheer for our teams — Visit a high school football game on a Friday night to cheer on our local athletes. The season is scheduled to begin Sept. 25 for Aiken County schools.
Explore the outdoors — Located in Windsor, Aiken State Park offers a swimming pond, picnic area, places for fishing, hiking trails, camping and more. Great for a day trip or a weekend getaway.
Learn North Augusta's heritage – Learn about the history of the North Augusta region, view exhibits featuring art and pottery created by area artists and browse the gift shop at the Arts & Heritage Center of North Augusta.
Buy some fresh produce — There are many small family farms that grow a variety of vegetables and fruits here. The Aiken County Farmers Market has operated at its current location since 1954. Housed in a shaded structure with tables built by farmers and their families, the market is open Monday through Saturday from 7 a.m. to 2 p.m.
Visit downtown Aiken — Spend time exploring a variety of eateries and unique shops housed in historic buildings in Aiken's downtown. Be sure to explore the areas off Laurens Street. From antiques to the latest fashions for men, women and children, downtown Aiken has a little something for everyone.
Grab a coffee — With a variety of coffee shops to choose from, grab a coffee, hot chocolate or warm apple cider at one of several locations.
Take in a game of polo — Enjoy Aiken's equestrian culture and take in a game of polo.
Visit Yonce's Mill — Yonce's Mill is along old Mount Calvary Road outside of Ridge Spring. Though the town limits of Ridge Spring are located in Saluda County, this portion of the road crosses back into Aiken County.
Take a trolley tour — Experience historic Aiken aboard the Aiken Trolley. See the majestic oaks of South Boundary and hear about equestrian sites, historic homes and churches, the Battle of Aiken and more. Masks are required.
Trick-or-Treat from your car seat — The City of Aiken Parks, Recreation and Tourism Department will hold the Boo Bash drive-thru in place of its Trunk-or-Treat event from 4:30 to 6 p.m. Oct. 31 at four different locations: the H. Odell Weeks Activities Center, the Smith-Hazel Recreation Center, the Lessie B. Price Aiken Senior and Youth Center, and the Aiken Visitors Center and Train Museum. Pre-made treat bags will be provided at each location.
Take riding lessons — Experience Aiken's equestrian heritage by learning to ride or improving your skills.
Watch a drag race — Known as the House of Hook, cars and their drivers battle to cross the finish line at the Carolina Dragway in Jackson.
Visit Wagener — Named after George Wagener, a railroad activist and cotton merchant, enjoy shopping and dining in this quaint town. The Wagener Museum features local histories, genealogical books and the works of local authors. Open by appointment.
See how the pioneers traveled — The Bicentennial Wagon Train Pilgrimage to Pennsylvania was held in 1976 and featured wagons from all 50 states. The S.C. Conestoga Wagon was given to Wagener in 1977, and is housed in the Wagon House in Wagener.
See how SRS has changed — Featuring photographs taken by SRS employees, the 70th anniversary of SRS art exhibit called Beyond the Barricade showcases the past and present of the site. Aiken Center for the Arts, 122 Laurens St. S.W. The exhibit runs through Oct. 23.
Grab some BBQ — Picking up some homemade Southern barbecue or make some of your own is a must during the fall season.
Take your picture with William Aiken — A statue of William Aiken sits on a bench near the Newberry Street fountain. Take a seat and snap a selfie with Aiken's namesake.
See how milk is made — Tour family-run Hickory Hill farm and find out how the milk gets made, from what the cows eat to the milking process. Reservations required.
Build a sand castle — Have a picnic and enjoy the shade at the Charleston Street Playground. Offerings include a covered pavilion, slide, swings, basketball court and sand box.
Play a round of putt-putt — Play some golf the whole family can enjoy.
Escape a room — Spend quality time trapped in a room with your family (or friends). Solve a puzzle in a set amount of time to escape.
Go to the movies — The movie theater in Aiken is showing current releases. Don't forget the popcorn.
Catch a show at The Big Mo — The Big Mo drive-in movie theater in Monetta is not having regular showings right now, but has rented out the space for a few special events, like concerts.
Ride a bike — Tour historic Aiken on an electric bike. Don't worry if you're not the strongest cyclist, the bikes do most of the work.
Get active — Take a class, play a sport, or learn an instrument. From karate to ballet, many businesses offer lessons.
Go hunting or hiding rocks — Join Aiken Rocks and search and hide rocks anywhere you want. Join the club on Facebook.
Safari in Salley — Eudora Farms offers up-close-and-personal time with a variety of unique animals from highland cows and emus to camels and giraffes.
Walk a dog — Join Aiken Dog Walks, a lively group of dog walking enthusiasts in Aiken led by local legend Tucker the Basset Hound.
Cycle in a pack — The Aiken Bicycle Club is a group open to everyone for the exchange of information about cycling in the area. Club ride information is posted on the club's website, AikenBicycleClub.org.
Explore dirt roads — Drive down charming dirt roads in Aiken's historic district – a great place for a photoshoot. Two Notch Road, Mead Avenue and Grace Avenue offer a glimpse of Aiken's horse district.
Socialize with dogs — Open to dogs of all sizes with a membership, the Aiken Dog Park features an area especially for small dogs, a splash pool for dogs of all sizes, pavilions and water fountains.
Bark in the park — Right off the Greeneway, the North Augusta Bark Park offers separate areas for large and small dogs and benches for the humans.
Play at the library — Suitable for kids of all ages, the Aiken Library Park features a soft play surface, slides, swings and a picnic pavilion.
Walk a story — Located on the left side of the Aiken Library Park, the interactive story walk for children will be changed on a bi-weekly basis.
Play tennis — Relax in an Adirondack chair on the wrap-around porch of the Weeks Tennis Center before playing a game of tennis on one of the six hard courts or 10 clay courts. Be sure to visit the pro shop.
Play pickleball — Grab a paddle and head to any of the public pickleball courts in Aiken. Or call the Pickledillys and join a team.
Get a drink of water — Located near the intersection of Flowing Well Road and S.C. Highway 302, fresh, cold water is available 24/7 from Flowing Well.
See the moon and stars — Visit the Ruth Patrick Science Education Center and the DuPont Planetarium on the campus of USC Aiken. Several programs are offered.
Shop and dine — Visit downtown North Augusta on the third Thursday of each month, when businesses stay open later to allow merchants to come and shop.
Go back to school — The Academy for Lifelong Learning at USC Aiken is a volunteer-run organization that provides seniors with a variety of classes. Classes this year include everything from meditation and exercise to honeybees.
Find some spring water — Coker Spring was used by prehistoric Indians and early settlers of Aiken as a primary source of fresh drinking water. It became part of the National Register on Jan. 18, 1978.
Feed the turtles — Turtles can often be seen swimming around and sunning themselves at the pond in Hopelands Gardens. Offer them some leafy greens, like kale or lettuce, and watch them enjoy a healthy treat.
Solve the labyrinth — Patterned after a 13th-century design in Amiens Cathedral, France, the Labyrinth at Hopelands Gardens opened in April 2007 and features brick pathways leading to a granite center.
Go to church — Silver Bluff Baptist Church was established in 1750, and a book about the spread of Christianity throughout the area documents the congregation as being the oldest Black Baptist church in the U.S.
Stop by All-Saints Anglican — Established in 1977 to serve orthodox residents in western South Carolina, the sanctuary was built in 1945 with a grant from the Upper Diocese of South Carolina for an African American congregation, St. Augustine's Episcopal Mission.
Stand at the cross — The most famous grave in the Graniteville Cemetery belongs to a boy whose name remains a mystery. A 92-foot-tall white cross also stands in this cemetery thanks to Megiddo Dream Station, which erected the cross in 2015.
Visit Civil War graves — Several historic Civil War graves are located in the cemeteries of St. Thaddeus Episcopal Church and First Baptist Church.
Explore Aiken's Black history — Pine Lawn Cemetery is a National Register property where free Blacks and freedmen are buried. The cemetery also includes the graves of veterans from many wars and conflicts. Originally named the Aiken Colored Cemetery, it was established in 1852. Located between Hampton Avenue and Florence Street.
Visit the graves of prominent residents — The cemetery at St. Thaddeus Episcopal Church includes the final resting places for an Aiken mayor who was murdered, a well-known suffragette, a poet and inventor, and a brigadier general in the Confederate army.
Get a workout — Play basketball, work out or take a walk at the H. Odell Weeks Activities Center.
Go for a spin — The inclusive playground at the H. Odell Weeks Activities Center includes multiple play structures and amenities for all ages, with highlights including a zipline, musical elements, multi-user swings, spinners, a merry-go-round and more.
Row a boat — With the dam renovation complete, rowing has resumed on Langley Pond. The park also offers a 2.8 mile loop trail for walkers, joggers, runners and horse back riders, opportunities for fishing, a covered picnic area, playground and a beach area.
Choose the perfect pumpkin — Select a great pumpkin from a variety of festive gourds at a local pumpkin patch. St. Bartholomew's Episcopal Church in North Augusta usually holds a pumpkin patch.
Explore the natural world — Visitors to the Gopher Tortoise Heritage Preserve/Wildlife Management Area for the opportunity to see deer, wild turkey, quail and fox squirrels. The gopher tortoises are a bit harder to spot as they spend much of their time underground.
Enjoy the Savannah River — Walk along the river, grab a bite to eat and visit the Augusta GreenJackets gift shop in Riverside Village.
Stop and view the butterflies — Named in memory of Billie Vaughn, Billie's Butterfly Garden on the North Augusta Greeneway celebrates Vaughn's love of bright colors, birds and butterflies and welcomes visitors of all ages to enjoy the vibrant flowers, plants and butterflies.
Eat outdoors — Grab a bite to eat from an area restaurant and enjoy the cooler weather while dining outside.
Tour the stables — Visit the Rye Patch stables and see where the Winter Colonists stabled their horses. Statues of of the horses, along with information about them and their owners, are on display here.
Visit Vaucluse — Listed on the National Register, the Vaucluse historic district includes the Vaucluse mill compound, a three-building commercial complex, a company-built swimming pavilion, the 1877 mill dam and the Vaucluse mill pond. The old Vaucluse Post Office is also located here.
Commemorate veterans — Aiken County Veterans Park includes a memorial wall honoring all fallen Aiken County Veterans, engraved brick pavers and a fountain. Flags of all services are represented as well as the American Flag, South Carolina State Flag and POW/MIA.
Remember those who served — A memorial to all wars and POW/MIA's, the Wade Hampton Veterans Park was named for Civil War veteran Wade Hampton III, and is located in North Augusta. It offers benches, sidewalks and beautiful landscaping.
Honor veterans — A Panel of Honor with the names of hundreds of military veterans is one of the main features of the Horse Creek-Midland Valley Veterans Park. The area also boasts a gazebo, picnic tables, a paved walkway and a display of military vehicles. S.C. Highway 421 near Bath.
View a historic home — James U. Jackson founded North Augusta in 1906 and his home, Rosemary Hall, is still standing. Drive (or walk) past and look a this majestic historic mansion.
Imagine early North Augusta — John C. Calhoun Park is home to a fountain, monument and the James U. Jackson statue. Enjoy this historical park while facing Lookaway Hall, envisioning what life was like during the early days of North Augusta.
Look for rare plants — An observation area provides a place to view Ditch Pond, which is one of very few Carolina bays that has retained its natural state, at Ditch Pond Heritage Preserve/Wildlife Management Area. Visitors may see rare plant species that grow in the area including blue maidencane, Robbin's spikerush and creeping St. John's wort.
Shout it out — ShoutFest, a family-focused gospel festival that boasts national and regional gospel recording artists, will feature a combination of on-air radio interviews and performances this year. Performances will also be posted on social media.
Adopt a pet — The Aiken County Animal Shelter has a variety of adoptable dogs and cats waiting to find their forever homes.
Help socialize adoptable pets — The SPCA Albrecht Center for Animal Welfare relies on volunteers to help read to, socialize and walk adoptable cats and dogs.
Head down by the bay — Located across the street from Virginia Acres Park, the Carolina Bay Nature Reserve offers hiking trails and the opportunity to see native wildlife.
Spend a night out — Ladies Night Out will be from 6 to 10 p.m. Tuesday, Sept. 29, at SRP Park. Enjoy cheese, fruit and wine while helping to raise money for childhood cancer research.
Touch-a-Truck online — Children of all ages will have the opportunity to safely explore a variety of vehicles from the comfort and safety of their homes. The City of Aiken will showcase city vehicles and the men and women who operate them. For more information, visit www.cityofaikensc.gov.
Create a fall craft — From fall wreath workshops to pumpkin painting, local plant nurseries will help you get into the autumn spirit with a variety of workshops for all ages.
Ride the rails — Roads n' Rails (Songs n' Tales) will feature songs about the railroad and country music. 11 a.m. to 1 p.m. at the Aiken Visitors Center and Train Museum.
Make some music — Learn to play acoustic guitar. Bill Schaperkotter will help students advance their basic guitar skills, and improve the major and minor chords. Mondays through Oct. 5 at the H. Odell Weeks Activities Center.
Go to the fair — The Western Carolina State Fair, scheduled for each fall in October, brings fun and enjoyment to Aiken County residents. The fair offers food and entertainment at the Aiken Fairgrounds, 561 May Royal Drive. For more information, visit www.westerncarolinastatefair.com.
Read a book — The Aiken County Public Library offers a virtual book club for adults. Participants should sign up at the reference desk by calling 803-642-2020. The meeting will be online.
Get off the beaten path — Spann-Hammond Park sits on approximately 26 acres. Park amenities include a small pond, boardwalk, walking/hiking trails and picnic areas. 124 Spann Hammond Road, Beach Island.
Eat brunch — Now that cooler weather has arrived, get up early (or late) on Sunday and grab a bite to eat at one of Aiken's many restaurants.
Beautify the county — Join or form a litter cleanup group along a local highway.